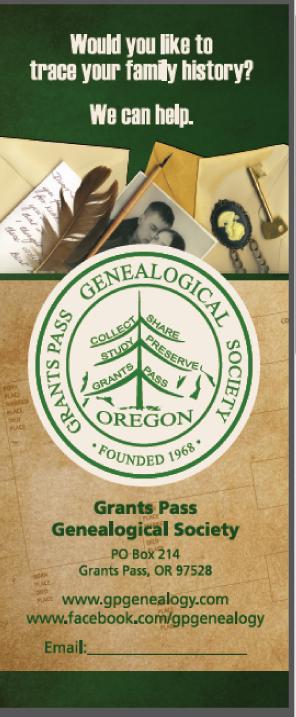 The mission of this Society is to provide genealogical knowledge to its membership and promote the study of ancestral history to the community at large. Our goal is to provide research support to all who have a desire to know their ancestors—where did they come from, what did they do, and what was unique about them?
BECOME A MEMBER!
Yearly membership dues are $15.00 per person or $20.00 per family at the same address.
Fill out the membership form on the reverse side and mail it in, or submit it at one of our meetings.
Our newsletter is delivered to members via e-mail and is also posted on our website.
Meetings will be held at The Church of Jesus Christ of Latter Day Saints on Willams Hwy again when Covid restrictions lessens.
Download our Membership Brochure
To become a member, click on the picture of the membership brochure on the left to open in Adobe Reader. Download the file, fill in your personal information and mail to:
Grants Pass Genealogy
PO Box 214
Grants Pass, OR 97528
Membership Online Application/Renewal